Werner Erhard's trip to Moscow in 1990
Thursday, December 6th, 2012 at 10:53 am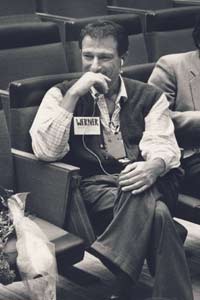 _________________________
Excerpted from Werner Erhard's trip to Moscow in 1990:
"At the beginning of the year, we had an opportunity to look at our work in the context of the beginning of a new decade.  We saw that on the one hand, it's true that this is a year like any other year, and on the other, we also had and continue to have an opportunity to generate this year, and this decade, as a powerful springboard into the next century for both our individual intentions and as the conversation we are engaged in together, standing for a new possibility for what it is to be human.  In creating this future for ourselves, we allowed ourselves to be inspired by the unprecedented changes which took place in the world, particularly in the Soviet Union and Eastern Europe…."
"We have been engaged in an exchange with organizations in the USSR for the past ten years, both through Werner Erhard and Associates (which funded our initial work in the USSR), and the US/USSR Project of the Werner Erhard Foundation…"
"The USSR that we found on this visit is palpably at an historical crossroads. While many people are disturbed by the changes that are taking place because of the basic disruption the represent, there are many people who are taking the opportunity, and the sudden lack of guidelines for action, as a window to create and generate a new and unpredictable future."
Tagged with: USSR • Werner Erhard • Werner Erhard Foundation
Filed under: Writings
Like this post? Subscribe to my RSS feed and get loads more!